20 Years in Business, Doesnt always mean what you think.
August 30, 2017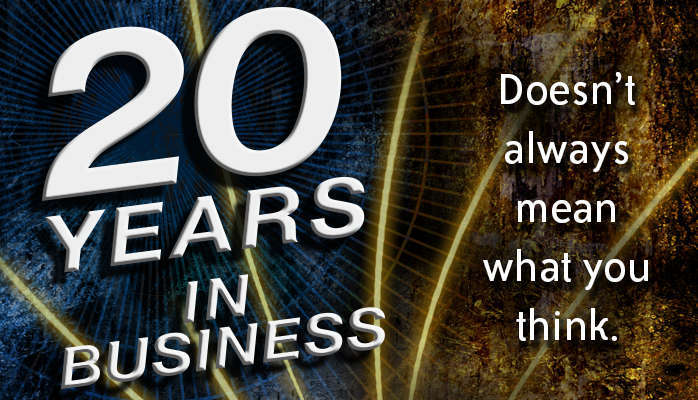 When you reach the two decade milestone in business or experience, it can certainly be worthy of proclaiming. Whether its displayed in personal profiles, websites, advertising, it communicates a solid, trustworthy company. A company that has expertise and provides something you need or want.
Whether its a cup of coffee and a slice of pie at a local diner, or buying a new vehicle from your favorite dealer, we enjoy and support those businesses that consistently deliver things the way we want them.
If a company or business owner provides a great product or service, their reputation will spread by word-of-mouth and through social media, resulting in repeat customers and decades of success. The quality of the work and the personalities of the operators (the brand) will facilitate longevity of the business.
On the other hand, there is no real significance to the number 20. Lets take a look at the other side. We see it everywhere, resumes, commercials, and print ads, touting Over twenty years in business. Its worn like a badge of honor—a rite of passage. You could be doing a mediocre job for twenty years but how does that have any value to anyone? A lot of businesses have a good run but then they start to settle in and get comfortable. They sustain enough business to keep the lights on but arent really growing. They continue doing what theyve always done resulting in very predictable revenue. Meanwhile, the world is changing. Technology has and will continue to change the way consumers shop and purchase. If you dont keep up with the Jones youll get stuck.
I was recently at a shopping mall and about 25-30% of the stores had gone out of business. Online shopping has drastically impacted retail purchases. Kodak really missed an opportunity when digital was introduced. It seems like every week, while new buildings are being constructed, three businesses are closing their doors. Even family owned and operated businesses need to adapt and change to not just stay afloat but to endure the economic shifts. You may not shut down completely but you will certainly hinder growth if you arent always improving.
Customer service is vital. There are countless business owners that fail to address this area of operation and yes, there are plenty of unsuspecting people that will try out a product or service once. If you arent providing top-notch service, youll lose every customer, eventually. Sure, more will call or come in because they found you online, but they wont return. Reliance on this approach will lead to demise.
As August comes to a close, I am happy to announce twenty years since I started Impressia. By adapting to change, altering my products and services to accommodate what the market wanted, focusing on quality and customer service, and always seeking and implementing different ways to communicate effectively, I have grown from a side business offering a single product, to providing a variety of products and services to many (repeat) clients. Continuing to stay educated and learn whats going on in other industries has opened up unexpected opportunities.
So, how are you going to reach 20 years in business? How far beyond that are you willing to go? Look at what you need to do and then attack it!
Are you looking for someone who can just take photos, or someone who can create amazing images that meet your needs? Todd Ramsey, Owner of Impressia, delivers a "Distinction Beyond the Standard" to help you attract the clients you deserve.
If you're ready to improve your image, send me an email at: toddramsey@impressia.net and let me know how I can help.