19 Years Hope or Do
September 06, 2016
This new series of posts will be in chronological order starting in March of 2015. As the series progresses, you will start to see some changes and improvements in my techniques. By Doing rather than Hoping, you can change your circumstances.
So, after deciding to give it my best shot to make an 18-year hobby/side job become my sole source of income, I was going to have to drastically change my approach to growing my business. A long-time friend told me I had the skills, knowledge, equipment and experience to do the job but I needed to work on the business side of things. Good advice but I couldn't get the thought of needing to have income and where would it come from out of my mind.
In 2015, I officially applied to 90 graphic design and photography related jobs. In total, I had two phone interviews, three actual interviews and no offers. Going from working my entire life to getting laid off and not having any luck finding work was very discouraging. Mostly due to its proximity to my home, I had applied to a variety of photography and design positions at Pier 1 Imports for two years. I was never given a chance to talk to them or prove my ability because I did not have 3 years of shooting home decor. Determined not to give up, I contacted a homebuilder that had a model home in my neighborhood to see if they would allow me to photograph the model to get some practice and some images that I could present to Pier 1. Then, I called Plantation Homes (part of McGuyer Home Builders, Inc. MHI) that also had a model in my neighborhood to see about photographing their model for some additional experience. They were very kind and approved my request. For many reasons however, I never got around to doing it but one day, I got a call from the marketing director. She told me they were not happy with the photographer they had been using and liked the examples I had showed them of their competitors property. They hired me to shoot the model in my neighborhood (for pay!) as well another property. This led to photographing several more properties for them.
Eventually, after applying to the following positions with Pier 1 Imports: Digital Art Director, Digital Designer, Senior Graphic Designer, Associate Photographer, Manager Ecommerce Photography and Photographer (seven separate times), I did get a phone interview. (Insert trumpet sounds here)
I used every ounce of knowledge I had about proper interviewing techniques and how to make the best impression.I had prepared questions, rehearsed some ideas for answers I may give. I stood up during the interview and smiled while speaking. I was able to make memorable relatable points with the interviewer, I felt like I had given the best interview of my life and… I never heard from them again. Although I felt some sense of victory that I got the phone interview after two years of effort, I also felt like maybe I just wasn't good enough.
But you know what? The image below that I created for Coventry Homes (also part of MHI) was entered in the 2015 McSAM awards and won first place for Best Architectural Design, Sales Price Between $400,001 and $500,000. Not only that, they have displayed my images on the walls in the office of the model home, used them in their print and online marketing, and this image has been running on digital billboards throughout DFW on and off for a year now. This was the beginning of my new career.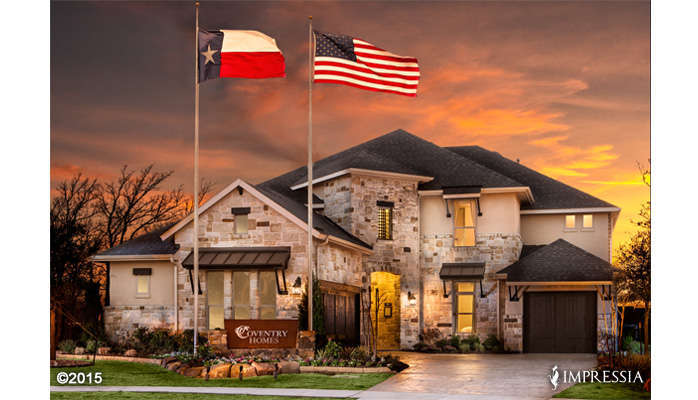 So, whether you've gotten laid off, thinking about starting your own business, or maybe you just want different results in your situation, you can hope things will work out, or you can take some action and do something to make it happen.
Are you looking for someone who can just take photos, or someone who can create amazing images that meet your needs? Todd Ramsey, Owner of Impressia, delivers a "Distinction Beyond the Standard" to help you attract the clients you deserve.
If you're ready to improve your image, send me an email at: toddramsey@impressia.net and let me know how I can help.