Perseverance
October 12, 2016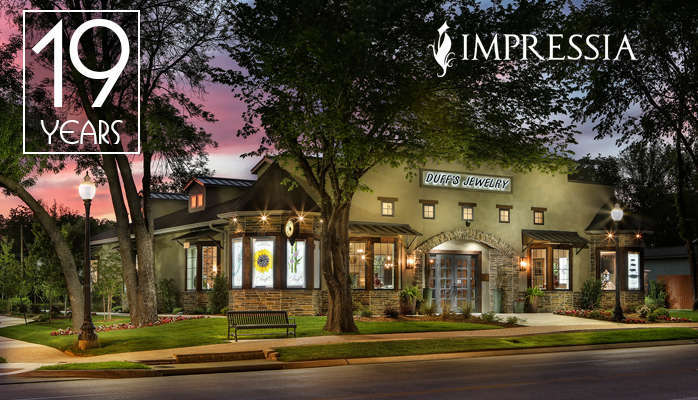 As I continue this series sharing different aspects of growing a small business, there will be various aspects Ive encountered in both the residential and commercial industry. When pursuing anything, if you quit, youll never know what you might have achieved. H. Jackson Brown Jr. is quoted as saying, In the confrontation between the stream and the rock, the stream always wins, not through strength but by perseverance. Now, I dont like to think of business as a confrontation by any means but the concept of water slowing wearing away a rock simply by its steady persistence, should be an example to us all.

In the summer of 2015, I saw two men installing a wooden sign on an empty property indicating that a new Duffs Fine Jewelry store was going to be built there. I discovered there was an existing store location and I went to meet with the owner to discuss photographing the new store. Brandon Alford was very nice and his knowledge of jewelry was impressive. He liked my work and said he wanted me to photograph the new store when it opened in November. As the time got closer, he started to rethink this because the store was going to be decorated for the Christmas season and he didnt want all of his advertising to display the Christmas appearance. He decided to postpone photographing the new store until the spring of 2016. Once the stores construction was completed, some photos had been taken and were being displayed on the company website and various social media outlets. After continuing to maintain contact with the owner, when spring came around, Brandon was a little reluctant to have the new store professionally photographed since he had some images he was already using. So, we went from Youre hired to Im not so sure I need this. I shared some images of recent projects I had done and the impact they had on him resulted in a complete change of his composure. He smiled like a Cheshire cat and responded without hesitation, Lets do it. I could have accepted his decision not to move forward but through gentle persuasion and perseverance, I was able to overcome his doubt.

After the final images were created, Brandon also ordered a fantastic 30x20 print to proudly display in the store. So what can you take away from this? If you do good work, do it right, and dont quit when you get resistance, you will win.
Click to see more images of Duff's Fine Jewelry.
How have you persevered in business?
Are you looking for someone who can just take photos, or someone who can create amazing images that meet your needs? Todd Ramsey, Owner of Impressia, delivers a "Distinction Beyond the Standard" to help you attract the clients you deserve.
If you're ready to improve your image, send me an email at: toddramsey@impressia.net and let me know how I can help.